York drivers' phone data to ease traffic jams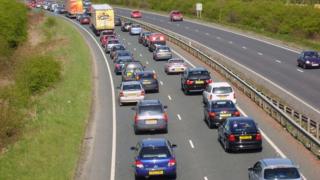 Mobile phone data will be used to ease traffic jams in York in the first trial of its kind in the UK.
The council will monitor drivers' phone signals from inside cars to help planners manage traffic better without having to build new roads.
It will also allow officials to predict traffic patterns during severe weather and divert vehicles through less busy areas of the city.
The council said the data would be collected anonymously and kept secure.
Councillor Peter Dew said: "Our city hasn't got the space for any more road."
Read more stories from across Yorkshire
As of this month, the council said detectors would be fitted to traffic lights, bollards and other street furniture on the A59 into York.
The sensors will track drivers so traffic lights can be changed to ease congestion, as well as gathering data to help design future junctions and roads.
The council said the data would be "stored in a secure cloud subject to UK government security principles".
It said its system would also be able to communicate with driverless cars in the future.
Mr Dew said: "We have to use technology as much as tarmac to get our network fit for the whole of the 21st Century.
"What happens on York's roads over the next couple of years will help define how traffic is managed in the UK."