Pregnant ewe and unborn lambs killed in dog attack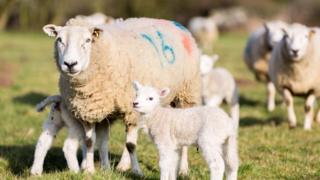 A pregnant ewe and her two unborn lambs have been killed in a dog attack sparking a police warning for owners to keep their pets on a lead.
North Yorkshire Police said livestock worrying was a criminal offence and such attacks had become "a growing problem" in rural areas.
Two lurcher dogs attacked the animals when they entered a field in Catterton, near Tadcaster, on Saturday evening.
Officers said they were investigating the incident.
Insp Jon Grainge, of North Yorkshire Police, warned dog owners to keep pets "under control when they make their way through sheep fields".
"Livestock worrying is a criminal offence, which is estimated to cost the farming community around £1.3m per year nationally.
"Quite apart from the impact on their livelihoods, it is absolutely devastating for farmers to come across the bodies of sheep who have been attacked and then left to suffer a slow and painful death."
Officers have appealed for anyone with information to come forward.