Three Scarborough RNLI crew resign over coxswain sacking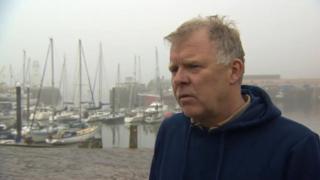 Three members of Scarborough's RNLI lifeboat crew have resigned over the dismissal of a coxswain in a row over a training exercise.
Tom Clark, who has been with the lifeboat service for 34 years, has been "permanently stood down" after he held a training exercise without permission.
The RNLI said the North Yorkshire town still had "a strong committed crew".
A petition to reinstate the coxswain has received more than 4,400 signatures.
Former crew member John Pearson said he had resigned after the "just appalling" treatment of Mr Clark.
"I just thought I don't want to be part of this," he added.
Darren Lewis, RNLI lifesaving manager for the area, confirmed the resignations but said the station had more than 25 crew, plus shore crew, and was able to launch both its boats.
He said it was a "difficult time for the station" and he did not want "anybody else to walk out the door".
Mr Lewis said an offer to Mr Clark that did not involve dismissal had not been taken up and the RNLI would not change the decision as "the proper process required for a safe exercise at sea were not followed".
Mr Clark said it was the way his three decades of service ended that upset him.
"I could have come up with a plan where it would have been a seamless transition from me to the new people," he said.
Paul Wilkinson, the harbour watch keeper, said leadership of the lifeboat was crucial in bad weather or a tricky rescue.