Cold case investigation rapist jailed for 1988 assault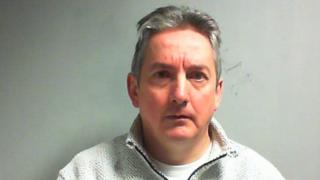 A lorry driver has been jailed for a rape he committed almost 30 years ago.
Andrew Pennington, 53, was snared after advances in DNA testing allowed police to link him to the 1988 attack in York.
Forensic testing also connected him to a string of burglaries in Beverley, East Yorkshire, during which he stole women and children's underwear.
Pennington, from Crowle, near Goole, was jailed for 10 years after he pleaded guilty to rape and three counts of burglary.
York Crown Court heard Pennington was walking back to his car after a night out in York city centre on 29 October 1988.
He approached a 27-year-old woman, pushed her into a building and raped her before fleeing the area.
During the 1997 burglaries in Beverley, East Yorkshire, he also stole electrical items and jewellery.
'Incredible burden'
In a statement, the victim described the months since Pennington was arrested as "a roller coaster of emotions".
"The news that a suspect had been arrested for the attack on me brought the events of 29 years ago crashing back into my life; a life that I had only recently begun to feel confident about," she said.
Det Insp Steve Menzies said: "Pennington was getting on with his life whilst the victim in this case spent three decades knowing that nobody had been brought to justice for the crimes committed against her.
"That is an incredible burden for anyone to bear. I praise her bravery and determination given that the arrest of Pennington, 29 years after the attack, will have renewed memories of the incident."