Kirby Misperton fracking not to start before autumn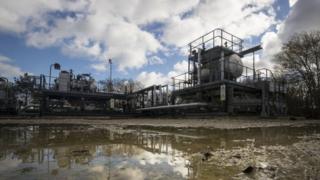 Fracking for shale gas at a site in North Yorkshire has been stalled for at least another six months, energy company Third Energy has said.
It confirmed a new autumn timescale before fracking begins at its site at Kirby Misperton.
Anti-fracking campaigners who set up a camp on site in 2016 began to dismantle it last Friday.
Third Energy is awaiting final consent to frack from the government and has moved some equipment off the site.
The company was given planning permission in 2016 to begin hydraulic fracturing at the existing well and had hoped to receive final permission from the government before the end of last year.
But in January, Business Secretary Greg Clark said he would not give the go-ahead until financial assessments of the firm had been completed.
Third Energy has said fracking would still happen "on completion of the approval process" and in the meantime it would remove part of a sound barrier and reopen a temporarily closed footpath.
Third Energy's plans at Kirby Misperton, south of Pickering, are among efforts by several energy companies to establish a shale gas industry in the UK.
Hannah Martin, of Greenpeace, said: "In the six years since the first well was fracked, the fracking industry has supplied less than 0% of the UK's energy demand."