Police crackdown on North Yorkshire bird of prey killings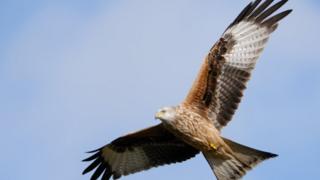 Police have joined forces with wildlife experts to combat bird of prey killings in the county with the UK's worst record for attacks.
Operation Owl will see officers in North Yorkshire sent to "persecution hotspots" to try and catch offenders.
As part of the campaign, the RSPB has launched a hotline to allow people to report incidents in confidence.
Its latest figures show 54 attacks were reported in the county between 2012 and 2016 - by far the worst area in the UK.
A report by the RSPB claimed many of the incidents were on "land managed for driven grouse shooting".
It cited an incident in 2016 when a gamekeeper on a grouse shooting estate in the Yorkshire Dales National Park received a police caution after admitting setting three pole traps.
The RSPB said that in 2016, confirmed incidents in North Yorkshire included four shot buzzards, four shot red kites, two poisoned red kites, a shot peregrine, a buzzard nest destruction and seven incidents relating to the illegal use of spring traps.
RSPB senior investigations officer Guy Shorrock said: "Illegal killing is not only robbing people of the chance to enjoy watching birds of prey but has serious consequences for their populations.
"We are sure there are people within rural and shooting communities who know who is committing these crimes but are cautious about speaking out."
Volunteer workers and rangers in the Yorkshire Dales and North York Moors national parks will also be trained to spot signs of "raptor persecution", a North Yorkshire Police spokeswoman said.