Kirby Misperton fracking: Company to remove equipment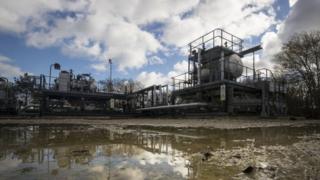 A company waiting for final permission to frack for shale gas has confirmed it is removing equipment from a site.
Third Energy wants to frack at an existing well in Kirby Misperton, North Yorkshire, but is still waiting for formal approval from the government.
In January, Business Secretary Greg Clark said he would not give the go-ahead until financial assessments of the company had been completed.
Protesters, who have been at the site since September, welcomed the decision.
Third Energy was given local planning permission in 2016 to begin hydraulic fracturing at the existing well and had hoped to receive final permission from Mr Clark before the end of 2017.
It began moving equipment on to the site in September.
In January, Mr Clark said he was satisfied the company met all the conditions relating to environmental protections but said he wanted similar scrutiny applied to its financial position.
The company said it had decided some equipment could be removed.
"This will allow our contractors to deploy their equipment to other projects during the financial review," the company said.
Third Energy said it hoped protesters at the site would "give residents a break" from disruption, as no fracking would take place at the site before the final consent from government was received.
Campaigners at the Kirby Misperton Protection Camp said they had vowed to protest against fracking at the site until Third Energy abandoned its plans.
A spokesperson added: "The fact that contractors are recalling their equipment while the government investigates Third Energy's finances doesn't bode well for the health of the company.
"We would suggest it's time for Third Energy to pack up and leave completely."