Flying Scotsman UK tour dates announced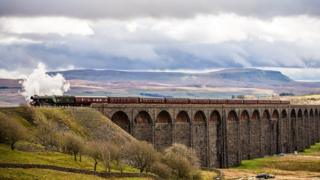 The world's best known steam engine, Flying Scotsman, will be visiting towns and cities across the UK as part of a summer tour.
Dates announced so far include Edinburgh, Cumbria, the Chiltern Hills and North Downs.
The engine will also be on show as part of several static displays, including the East Lancashire Railway.
The passenger tour gets under way in April, with a one-way trip from London's King's Cross to Scarborough.
It comes after The National Railway Museum, which owns the locomotive, signed a six-year deal with engineering firm Riley & Son (E) Ltd.
The record-breaking engine will also return to the Nene Valley Railway in Peterborough as a "special thank you" for providing assistance after the engine suffered mechanical problems in October.
Jim Lowe, head of operations at the National Railway Museum, said: "Flying Scotsman is a fantastic ambassador for the National Railway Museum and we aim to give as many people as possible the chance to see this legend of the steam age."
Further dates will be added throughout the year, once details are confirmed, he added.
Last year timetables were withdrawn by one operator on its website after a problem with fans trespassing on the line.
Ahead of the 2018 tour, officials are asking people not to put themselves in danger.
---
Flying Scotsman
Designed by Sir Nigel Gresley, Flying Scotsman emerged from Doncaster Works on 24 February 1923
The British Empire Exhibition in 1924 made Flying Scotsman famous
In 1934, Scotsman was clocked at 100mph - officially the first locomotive to have reached that speed. But some claim City of Truro was the first steam engine to break the 100mph record, in 1904, when it apparently reached a speed of 102mph running down a slope
It is 70ft (21m) long, weighs about 96 tonnes and had a top speed of 100mph
It has travelled approximately 2,500,000 miles
During World War Two it was repainted wartime black
By 1995 it was part-owned by record producer Pete Waterman
The engine was bought for the nation in 2004 by the National Railway Museum (NRM) in York using £415,000 in public donations, a £365,000 gift from Sir Richard Branson and a £1.8m grant from the National Heritage Memorial Fund
---