City of York Council leader David Carr dismissed by party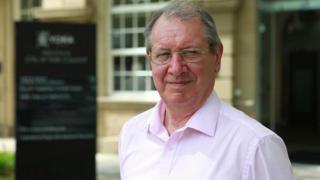 The leader of City of York Council has been sacked after a vote of no confidence within his own party.
David Carr, from the Conservative group, was dismissed by his colleagues after a row erupted involving his decision to sack a senior councillor.
He has been replaced as Conservative leader by Ian Gillies, who could be elected leader of the local authority at the next full council meeting.
Mr Carr said he stood by "every decision" he made as council leader.
Read more on this and other stories in North Yorkshire
It recently emerged that councillor Stuart Rawlings was sacked from the executive by Mr Carr on 23 January over a potential conflict of interest.
It related to a piece of land connected to a member of Mr Rawlings' family which was linked to the council's local plan.
Mr Rawlings denied any wrongdoing and said he "immediately declared the issue" to the council, but he was dismissed.
A second executive member, Sam Lisle, then resigned his place on the executive in response, citing irreconcilable differences with Mr Carr.
In a statement, Mr Carr said: "I stand by every decision I have made as leader of the council and I believe those decisions will be vindicated in due course.
"I have the support of a substantial number of the Conservative group, my conscience is clear and, most importantly, my integrity remains intact."
A full council meeting takes place on 22 February.
---
Gemma Dillon, BBC Radio York political reporter
Former Lord Mayor Cllr Gillies is the third leader the Conservatives have had in York since 2015. Councillor Chris Steward, who preceded David Carr, stood down in 2016 for health reasons.
The city is run by a coalition of Conservatives and Liberal Democrats, so it remains to be seen if this turbulent time will affect that relationship.
With elections around the corner next year in York and the annual budget due out, Cllr Gillies will be hoping to ease the rifts within his party.
He voted against the council's controversial local plan last week, so it is unclear how easy that task will be.
---