Rare hawfinches captured on film in North Yorkshire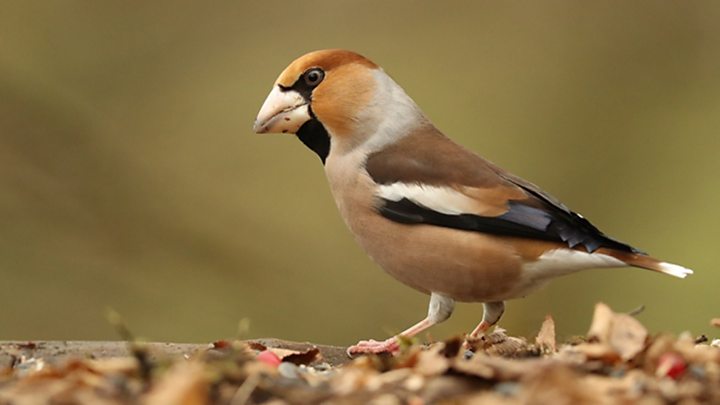 Close-up shots of a colony of rarely seen hawfinches have been captured on film at a stately home in North Yorkshire.
A colony of about 100 hawfinches has taken up residence at The Yorkshire Arboretum, near Castle Howard.
The birds, which are thought to have come from eastern Europe in search of food, have been filmed by wildlife artist Robert E Fuller.
His work is due to feature on BBC Two's Winterwatch.
Mr Fuller, who created a purpose-built hide with raised platform for the project, said it was incredibly rare to see such a large flock of hawfinches in one place.
He said they were normally only spotted in very small groups.
The birds' arrival in North Yorkshire followed reports of record numbers of hawfinches migrating to the UK late last year.
The British Trust for Ornithology (BTO) said in a blog the number of hawfinches spotted was 12 times greater than normal.
Mr Fuller said it was down to a shortage of food in eastern Europe.
The hawfinch is the UK's largest finch and has a massive, powerful bill
Hawfinches are usually shy and difficult to spot.
They are getting harder to find as their traditional breeding areas have declined in recent years
There are thought to be between 500-1,000 breeding pairs resident in the UK
The number of wintering birds is normally between 10,000 and 15,000
Source: RSPB