York Mansion House reopening marked by procession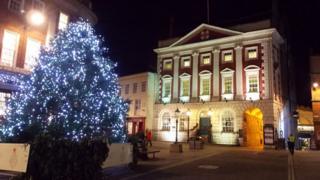 A procession has been held in York to mark the reopening of the city's Mansion House after a £2.6m restoration programme.
The historic house was built in 1732 and is the official home of the city's Lord Mayor.
It closed in August 2015 for work that included restoring the exterior as well as expanding the space to display the building's history.
The work was partly funded by a £1.2m grant from the Heritage Lottery Fund.
The parade through the city's streets was led by Lord Mayor Barbara Boyce.
Lib Dem city councillor Keith Orrell claimed the restoration was the biggest work on the house since it opened almost 300 years ago.
"The interactive pods, new displays and audio bring the house to life and show how it would have looked and been used throughout its long and eventful history," he said.
"I hope that residents take this opportunity to engage with York's illustrious civic past."
The house is open to the public and contains a display of the city's "civic silverware", including a goblet dating back to 1672.