Kirby Misperton fracking site police costs hits £400,000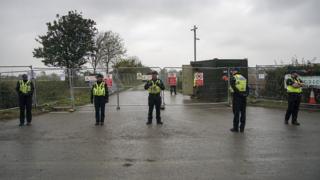 The cost of policing anti-fracking protests at a site in North Yorkshire has more than doubled in a month, the county's Police and Crime Commissioner (PCC) says.
Figures show the force spent £233,704 policing the Kirby Misperton operation in October.
In comparison, they spent £101,476 is September and £80,238 in August.
Commissioner Julia Mulligan said the rise was due to additional policing in the site's first month of operation.
More on this and other North Yorkshire stories
A report indicates the costs include overtime payments, mutual aid and the expense of bringing officers in from other forces, but do not include the cost of officers who police the site each day.
It also reveals that 66 people have been arrested at the site.
North Yorkshire Police has had a regular presence at the site since May 2016, when Third Energy was given planning permission to operate.
Ms Mulligan said costs increased in October because officers from other forces to police an increase in "protest activity".
She explained the force had "the necessary contingencies and budgets in place to deal with events such as this in the short term."
"However, if the costs go beyond 1%, or £1.4m, of our total budget, I have this week received a positive response from the policing minister to my letter stating that I have the option to seek a partial recovery of costs."
Fracking is the process of drilling down into the earth before a high-pressure water mixture is directed at rock to release the gas inside.
Opponents claim it can cause water contamination, earthquakes and vehicles going to and from the site could lead to noise and traffic pollution.