Bridlington's £1m bequest lifeboat in sea trials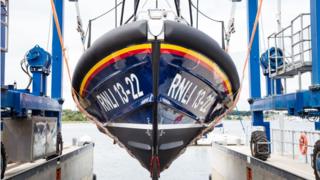 Sea trials are under way for a new Royal National Lifeboat Institution (RNLI) lifeboat named after the man who gave a £1m bequest in his will.
The Antony Patrick Jones will be the charity's fastest lifeboat capable of speeds twice that of Bridlington's existing lifeboat.
The £2.2m Shannon Class boat, built in Poole, Dorset, is housed in a new boathouse on the East Yorkshire coast.
Mr Jones died in 2002, leaving a £1m donation to the RNLI in Bridlington.
The two-storey station is next to the beach so the new boat can be launched quicker as it will no longer need to be taken along the main road to reach the sea.
The RNLI can also house both the inshore and all-weather lifeboats in the building.
The station's current all-weather lifeboat is to be used until the new craft is fully operational.
Andy Brompton, of Bridlington RNLI, said: "The crews are busy training on the new launching drills and undertaking sea trials."
The boat uses water jets rather than a propeller for propulsion and can reach speeds of 25 knots with a crew of six.
"It is more manoeuvrable and high-tech as you can get," Mr Brompton added.
"When I was on the crew in the 1970 we used a wooden boat that could reach seven knots and onboard we stood out in the elements."
The charity has about 30 volunteers available to service and man the lifeboat, with only one person - a mechanic - a paid employee.
The new lifeboat is to be named during an official ceremony next year.