Kirby Misperton: Hundreds in anti-fracking union march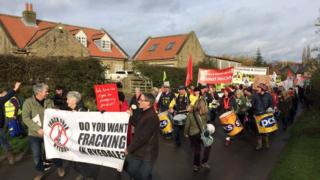 About 200 people have taken part in a trade union anti-fracking march.
Marchers gathered outside Kirby Misperton village hall in North Yorkshire and headed to Third Energy's KM8 well.
Organisers from the Unite union said it was to show solidarity with the protesters who have picketed the site since planning permission was granted in May 2016.
Third Energy has not yet received final government consent to begin fracking.
But the company expects to start before the end of the year.
Marchers, some of whom had travelled from outside of Yorkshire to attend, carried banners, waved flags and chanted slogans.
John Coan, from the Unite union, said: "Our community branches have come from Derbyshire, Lancashire and right across Yorkshire to be here today.
"We believe it's an unsafe practice and the people who live here should have the final say over if this process should go ahead."
Hydraulic fracturing is the process of drilling down into the earth before a high-pressure water mixture is directed at rock to release the gas inside.
Opponents say it can cause water contamination, earthquakes and vehicles going to and from the site could lead to noise and traffic pollution.
Third Energy previously said the process at its well, sunk for conventional gas extraction in 2013, would be carried out without disruption and with minimal impact.