Hawes community group takes over petrol station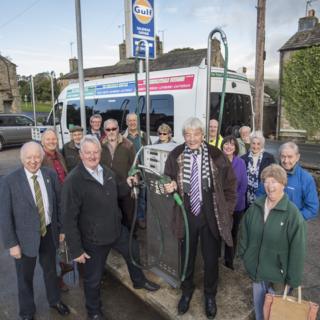 A village petrol station is to be taken over by a community group in a bid to save it from closure.
The Upper Dales Community Partnership (UDCP) has taken out a three-year lease on the Dale Head Garage in Hawes.
Had the petrol station closed people living in the village faced a 36-mile round trip to buy fuel.
During the tenure it hopes to buy the site via a community share offer, and install a 24-hour self-service pump along with an electric charging point.
John Blackie, councillor and executive chair of the partnership, said: "The petrol station is hugely important to Hawes. It fuels every day life, business and tourism in the area."
More stories from across Yorkshire
There were more than 40,000 petrol stations in the UK in the 1950s but that figure has dropped to about 6,000, said Mr Blackie.
"The countryside is littered with relics of what used to be filling stations," he said.
"We feared [the garage in Hawes] might fall prey to property developers as so many others have done."
Hawes is one of 17 areas in Scotland and England to be part of a fuel rebate scheme that allows retailers to claim back up to 5p per litre duty relief on unleaded petrol and diesel, and pass on the savings to customers.
The UDCP already runs a "one-stop community office" incorporating the town's library, an internet café, police station, inquiry desk, and bus company.