Case dropped against lewd remark huntsman Charles Carter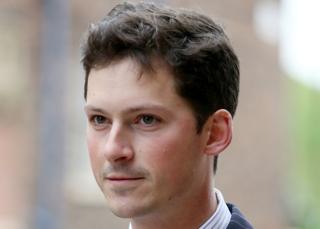 A hunt master who was filmed making lewd comments to a protester has been cleared of hunting charges.
Charles Carter, Master of the Middleton Hunt, made a series of remarks to Linda Hoggard, including asking her "can I take to you bed, please?".
Footage of the exchange was played at York Magistrates' Court where he denied a charge of hunting a wild mammal with dogs.
But the judge ruled there was no case to answer and dismissed the charge.
More stories from across Yorkshire
Addressing Mr Carter, district judge Adrian Lower said: "[Your comments] were boorish, they were offensive, they were distasteful. I imagine they caused her a degree of upset. But I put all of that to one side."
Mr Carter, 34, from Birdsall, was charged in relation to a meeting of the Middleton Hunt on January 23 at Squirrel Hall, near Duggleby, North Yorkshire.
An identical charge bought against whipper-in of the hunt, Colin Milburn, 59, of West Knapton, was also dismissed.
During their trial, footage was played of Mr Carter making the comments to Mrs Hoggard.
In the three-minute clip Mr Carter also tells Mrs Hoggard: "I'd quite like to shag you, actually."
After she responds with "I'll tell my husband that then, shall I?", Mr Carter adds "Can I take you to bed, please?", tells her she is "very pretty" and asks for her phone number.
He was initially charged with using threatening, abusive or insulting words or behaviour to cause harassment alarm or distress but the case was discontinued at a hearing last month.
Mr Carter was a councillor for Saham Toney ward on Breckland Council in Norfolk at the time of the incident but resigned after the footage emerged.