Mother Shipton statue unveiled in Knaresborough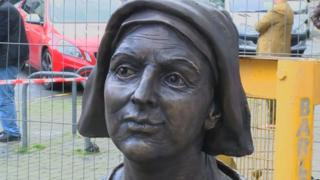 A statue of a Tudor prophetess believed to have predicted events such as the Great Fire of London has been unveiled in the town of her birth.
Mother Shipton was born in Knaresborough in the late 15th Century.
The bronze statue was commissioned from sculptor Chris Kelly following a fundraising campaign in the town.
The £43,000 sculpture sits on a bench in the town's Market Square close to a statue of 18th Century road engineer John Metcalfe, known as Blind Jack.
Read more about this and other stories from across Yorkshire
For centuries Mother Shipton has been depicted as the stereotypical witch, with a hooked nose and facial warts.
However, Mr Kelly has chosen not to portray her as such and gave her a more sympathetic appearance.
"In the first known literary print of her she appears as a well-dressed noble woman not as a witch at all, that came around 40 years later," he said.
The statue was first proposed in 2013.
Michael Owen from the Mother Shipton Appeal Committee said he was grateful for the many donations made and delighted the statue was finally in place.
Mother Shipton
Born Ursula Sontheil in a cave near the River Nidd in 1488
She died in 1561 and was first mentioned in print in a pamphlet published 80 years later
Pamphlets produced after her death in 1641 depicted her as an increasingly grotesque caricature of a witch
People believe she predicted the Spanish Armada and also the plague that wiped out 68,000 Londoners in 1665, as recorded in Samuel Pepys' diary
One of her most famous prophecies was that the world would end in 1881, but this was later revealed to have been written by bookseller Charles Hindley
Source: Mother Shipton's Cave