North Yorkshire fracking: Police officer and guard hurt at site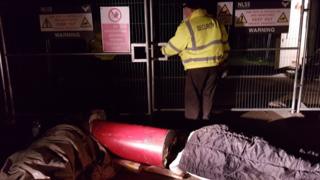 A police officer has been injured and a security guard bitten near a fracking site in North Yorkshire.
Two protestors are lying in the road outside the site in Kirby Misperton with their arms locked into a metal device, police said.
About 15 people arrived at about 04:00 BST and unloaded the metal device, believed to be a propane gas canister.
North Yorkshire Police said the officer was pushed over and hurt his ankle when the cannister was pushed onto his foot.
The security guard, a man in his 40s, was bitten during the tussle.
More news from around Yorkshire
A spokesman for protesters the Kirby Misperton Protection Camp (KMPC) said police and security "acted recklessly when activists arrived".
He said: ''Our actions are always peaceful, at no point do we wish to enter into any kind of confrontation with the police or security.
"We ask North Yorkshire Police and Next Level Security to please consider everybody's safety to avoid the risk of serious injury."
Supt Alisdair Dey said: "A police officer and a member of the public have been injured in this incident.
"This kind of behaviour is completely unacceptable and will be investigated thoroughly and dealt with appropriately.
"Our officers are there to support and protect people engaged in peaceful protest, and the safety of everyone at the site remains our priority."
Police are at the site to make sure the two men in the road are safe and well.
Habton Road in Kirby Misperton remains open, but local road users should expect some delays due to the disruption.
Third Energy was given permission to frack in Kirby Misperton in 2016. Protesters have been at the site since contractors and equipment started arriving last week.
Protesters have already lost a legal challenge against the decision to grant planning permission at the site.
Last week, a similar protest saw people locking their arms into barrels filled with concrete near the gates of the site.