Malton railway level crossing closed after fatal crash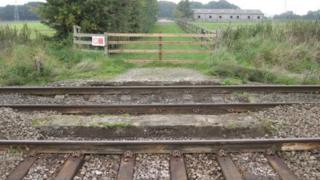 A level crossing where a man was killed as he drove across the railway line has been removed by Network Rail.
Eric Ireland, from Moorsholme in Scampston, died at the Ivy Lea farm rail crossing at Scampston, near Malton, in 2014.
Network Rail said an agreement had been reached with the landowner to get the crossing on the York to Scarborough railway line closed.
An inquest ruled that 77-year-old Mr Ireland's death was accidental.
The coroner found he had not called to request permission to cross the line, which he had been using for 50 years.
The private crossing was what is known as a "user-worked" crossing, meaning anyone wanting to cross the line must telephone for permission.
Read more about this and other stories from across Yorkshire
Robert Havercroft, Network Rail's level crossing manager, said: "The removal of Ivy Lea Farm level crossing is something we've worked towards for several years and I am pleased that we reached an agreement to remove the crossing equipment entirely."
He said the company had also legally closed three other private farm crossings on the same line, near Haxby and Barton-le-Willows, following agreement with landowners.
Private crossings are usually found on farm land and enable farm workers to cross the line without making long diversions.
Network Rail has been gradually closing many of the 6,000 level crossings it manages across the UK.
Between 2009 and 2014 it said it had closed 800 and plans to close more than 350 by 2019.
Mr Havercroft said crossings represented one of the "biggest public safety risks on the railway".
Network Rail has also launched a safety campaign with the National Farmers' Union reminding farm workers of the rules around using rural private crossings.