Campaigners call for North Yorkshire sheep race ban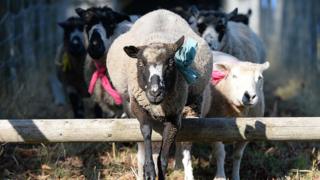 Animal rights activists have set up an online petition calling for a ban on sheep racing at Masham Sheep Fair in North Yorkshire.
The campaign, which has attracted more than 60,000 signatures, claims the racing is "unnatural, exploitative... and frightening."
Petition organiser Lambentations has caused similar events to be cancelled .
A competition organiser said the sheep ran to their feed trough and running was a "normal activity" for them.
Co-founder of the Lambentations group Samantha Francis said "using animals for entertainment is exploitative".
She said she only became aware of the annual event this year.
Mark Cunliffe-Lister, the landowner who owns the sheep, said: "the sheep used to live in the field all year" and running to the feed was "part of their normal activity".
There was "a sweepstake on which sheep reaches the feed trough first", he added.
According to Masham Sheep Fair's website, the fair has been running for 30 years and raises money for local charities with this year proceeds due to benefit the Yorkshire Air Ambulance.
As well as racing, the two-day event in the Yorkshire Dales market town features displays, market stalls, an art exhibition and sheepdog demonstrations.