Man arrested over two sexual assaults in York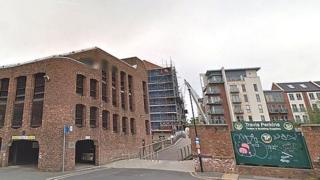 A man has been arrested in connection with two sexual assaults in York.
The 28-year-old local man has been arrested over the assaults on women in Navigation Road and near James Street, said North Yorkshire Police.
It comes after a police warning was issued for women not to walk alone in the evening in York following Tuesday's Navigation Road attack.
Two men were also arrested on Monday for another serious sexual assault in the Bootham and Marygate area.
Read more about this and other stories from across Yorkshire
An 18-year-old woman was grabbed by her bottom as she walked along Navigation Road in the early hours of Tuesday.
The other woman, aged in her 20s, was walking on Sunday night along the track from Tang Hall towards James Street when a man groped her, said police.
She bit her attacker on the hand and hit him in the face before running off.
North Yorkshire Police said patrols in the city were being increased in an effort to reassure the public.
Supt Adam Thomson said: "While York is generally a very safe place to live and visit, this is a timely reminder for everybody, not just women, to follow basic safety advice by avoiding walking alone at night."