Motorbike crashes: Investigations launched as 12 hurt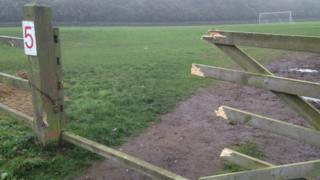 Investigations are under way after 12 people were injured in two crashes at a motorcycle race circuit in North Yorkshire.
Four people remain in hospital after riders crashed during the Steve Henshaw International Gold Cup at Oliver's Mount in Scarborough on Sunday.
In both, the competitors crashed through safety fences into the crowd.
The Auto Cycle Union (ACU) will investigate along with Oliver's Mount and North Yorkshire Police.
More stories from around Yorkshire
In the first crash near Drury's hairpin, six people were hurt when a bike ridden by competitor Jamie Coward crashed into the crowd at about 10:40 BST.
A further six people were injured in the second crash, which also happened at Drury's hairpin and involved Daley Mathieson at about 13:45 BST.
Two of the casualties were flown to hospital. Both riders were left unhurt but shaken.
North Yorkshire Police said officers were called to both crashes during the race.
Of the four people in hospital, one was expected to be released later. All those injured were from different parts of the country, the force said.
The meeting was cancelled after the second incident. A spokesman for Oliver's Mount said it was "due to medical resources being stretched over the two incidents and not having enough medical cover to continue."
'Sad and unfortunate'
It added: "The governing body, Auto Cycle Union, is sending an ACU track inspector and two experienced riders to Oliver's Mount in the coming weeks to assess the incidents and conduct a fresh risk assessment to prepare the circuit ahead of the 2018 season.
"This was due to take place in October already."
Paul King, Chairman of the Road Race, Drag and Sprint Committee said: "What has happened at Oliver's Mount is extremely sad and unfortunate, but thankfully rare.
"The ACU take the safety of any circuit very seriously, and the safety of spectators is of paramount importance.
"We will therefore be carrying out a full investigation into the two incidents."
Oliver's Mount is the only natural road race circuit in England, just outside Scarborough town centre.
Described as a smaller TT, the 2.43 mile track is described as a challenging, tight and twisty circuit.