First woman hornblower appointed to set watch in Ripon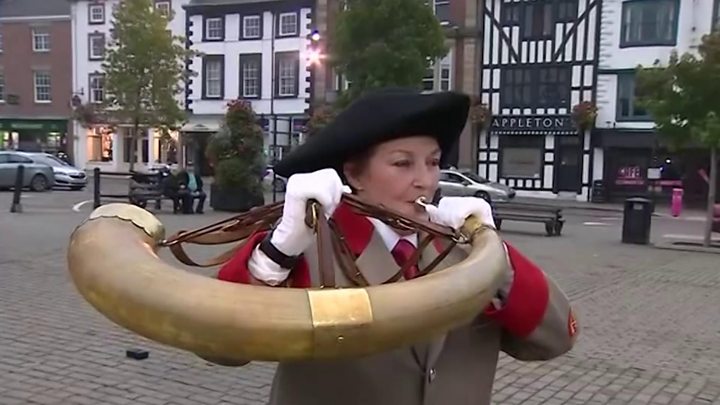 A female hornblower has set the watch in a North Yorkshire city for the first time in centuries of the traditional ceremony.
The hornblower has set the watch in the city every night since 886, by blowing a horn at the four corners of the obelisk in Market Square at 21:00 BST.
The horn is then blown three times outside the mayor's house.
Ripon City Council advertised for a new recruit and took on Allison Clark and Richard Midgley in a job share.
More stories from around Yorkshire
Mrs Clark said: "It's a great honour and really nice to be keeping this tradition alive in this lovely city.
"I think it's just so unique and so different and a great honour to be chosen."
"It is a very diverse role," she added.
The new hornblowers will join two others and between them they will cover every night of the year.
The job was carried out by a single person until 2015 when the council decided to appoint several hornblowers.
It had encouraged women to apply, saying it was keen on equal opportunities.
Mr Midgley said: "It's a dream come true, it was something I always had aspirations to do as a child growing up in Ripon, seeing the hornblower come to the school and give talks on history and the traditions of the city.
"It is a dream to be part of the living history and bring it to life to other people."
The job description stated the hornblower be paid £8.72 an hour and £21.12 to attend civic events.
The tradition is said to go back to when Alfred the Great visited Ripon and gave a horn to the city as a symbol of it being granted a Royal Charter.
The original horn is kept in the town hall.
Council clerk Paula Benson said Mrs Clark was the first woman to be given the job of hornblower, although a woman had previously stood in for her father and blown the horn on occasion.