Kirby Misperton fracking: Police investigate bats at site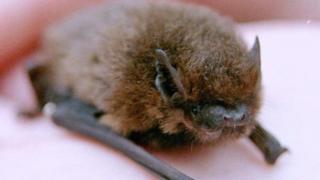 Police are investigating whether protected species of bats are at a North Yorkshire fracking site.
Friends of the Earth wrote to police suggesting their potential presence at Kirby Misperton.
Third Energy, which was given permission to operate a site there in 2016, said wildlife protection had been addressed during the planning process.
Natural England said bats were using the village but did not know if they were at the fracking site.
More stories from around Yorkshire
The government advisors highlighted several species of bats, including common and soprano pipistrelle and Myotis, which were using the area for foraging, while noctule and brown long-eared bats passed through.
It said: "We are working closely with and advising North Yorkshire Police on their investigations."
It is illegal to damage, disturb or kill a bat and its roosting place without a special license from Natural England.
North Yorkshire Police said it would now "determine the next steps".
Third Energy, which has not received final consent to begin fracking but expects to start before the end of the year, said wildlife protection, including bats, was "specifically addressed in the planning process".
The company said it would "complete a further survey in accordance with the planning consent".
---
The law on bats
It is a criminal offence if you:
Deliberately capture, injure or kill a bat
Intentionally or recklessly disturb a bat in its roost or deliberately disturb a group of bats
Damage or destroy a bat roosting or resting place
Possess or sell or transport a bat (dead or alive) or any part of a bat
Obstruct access to a bat's shelter or resting place
Those found guilty of any offences could:
Be handed a jail term of up to 6 months
Receive an unlimited fine
Source: Natural England and Department for Environment, Food & Rural Affairs
---
Simon Bowens, from Friends of the Earth, said: "In our view, Third Energy has failed to carry out a proper assessment of the impact of fracking at the Kirby Misperton site.
"We hope that North Yorkshire Police will seize this narrow window of opportunity to ensure that disturbance and harm to these legally protected bats is prevented."
As part of its planning statement submitted to North Yorkshire County Council in 2015, Third Energy outlined "there will be no significant adverse effect on foraging bats and there will be no loss of any potential roost".
In a statement, the company said: "It should be remembered that the KMA well site itself has been there since 1985 and provides no suitable places for bat roosts and limited foraging opportunities, because of the hard-standing and existing well-site infrastructure."
It said operations were due to start this month.
Meanwhile, four people have been charged over protests outside the site.