Forbidden Corner's Yorkshire Dales castle folly must be demolished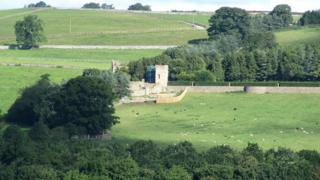 A castle folly built by a tourist attraction in the Yorkshire Dales must be demolished.
The 32 foot (10m) decorative structure at the Forbidden Corner, near Leyburn, was built without planning consent.
The Yorkshire Dales National Park Authority said the folly was unsuited to the location.
The Forbidden Corner has been approached for comment but told the Northern Echo they were considering an appeal.
Read more about this and other stories from across Yorkshire
A retrospective application for the ornamental building had been submitted in June but was withdrawn at the end of July when officers recommended refusal.
Officers said the folly was an "inauthentic, pastiche building of significant scale" unsuited to a protected landscape.
The authority only learnt about it in March.
Robert Heseltine, from the authority's planning committee, said: "The Forbidden Corner is a very welcome success story, which makes a significant positive contribution to the local economy.
"But it cannot be right to build a large castle folly, visible for miles around, in an historic and culturally important landscape, without even bothering to seek planning permission."
The authority said it would be issuing an enforcement order, which once served, would require the demolition of the folly within three months.