Scarborough takeaway boss jailed for boiling water attack on chef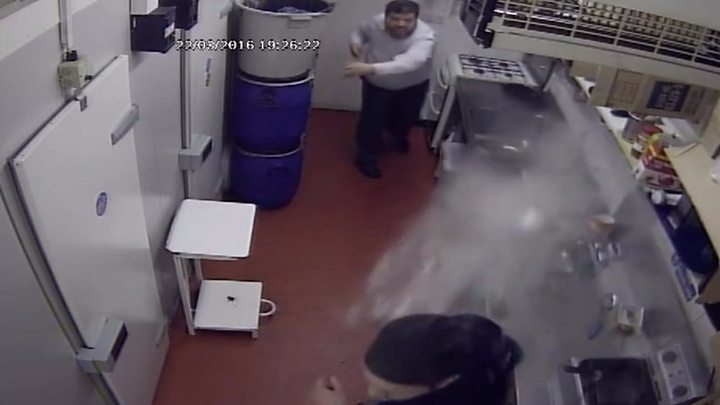 A kebab shop owner has been jailed for two years for flinging a pan of boiling water over a chef.
Djamel Benrejdal told Chouaib Boussera he was incapable of boiling an egg and then grabbed the pan and threw its contents at his employee.
Mr Boussera, 30, was refused time off to get treatment by his ranting boss, even though his arm was badly scalded.
Benrejdal's attack on his employee at the fast food outlet in Scarborough was caught on CCTV.
The chef howled in agony as he was "enveloped in a cloud of steam" and his boss stormed out, York Crown Court heard.
CCTV tampering
Benrejdal, 49, later applied a makeshift poultice of takeaway leftovers to Mr Boussera's wounded arm but he refused permission for him to go to hospital, forcing Mr Boussera to work with his arm in a sling.
Benrejdal, from Scalby, near Scarborough, had told his employee to boil an egg, but spotted a crack on the shell as it simmered.
CCTV footage of the attack, at the Eat Mediterranean kebab and pizza shop, shows Benrejdal waving his arms about before hurling the pan at Mr Boussera, who screamed in pain.
Andrew Espley, prosecuting, said Benrejdal applied yoghurt, onions and honey to his victim's "appalling" injuries in a "derisory attempt" to treat the injury.
He refused to take the chef to Scarborough Hospital until the next day and tampered with the takeaway's CCTV to hide evidence of the attack, after the chef went to the police.
Mr Espley said at the time of the attack, on 22 March 2016, Benrejdal had been on bail for assaulting his wife.
He was charged with inflicting grievous bodily harm with intent and pleaded not guilty at a trial held last month.
The jury found Benrejdal guilty of an alternative count of inflicting grievous bodily harm without intent, having failed to reach a verdict on the principal charge.
In mitigation Stephen Grattage said his client had been suffering "stresses and pressures" from the business.
Judge Andrew Stubbs QC said Benrejdal had deliberately used the boiling water as a weapon, causing "awful, long-lasting" scarring.