'Hypnosis abuse' minister jailed for abusing boys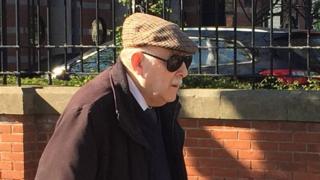 A retired Methodist minister who tried to hypnotise boys in a "sick ploy" to sexually abuse them has been jailed.
John Price, 82, used a cloak or blanket as he attempted to put his victims in a trance, a court heard.
He had denied indecently assaulting four boys, aged between 11 and 17, during the 1970s and 80s, but was found guilty of 13 counts.
Price, of Ash Tree Close, Bedale, North Yorkshire, was jailed for eight-and-a-half years at at Teesside Crown Court.
Live updates and more stories from Yorkshire
He had claimed he could help the boys with stress, physical or emotional pain via hypnosis.
None of the victims said they were actually hypnotised but they froze in horror at what the church leader was doing, the jury heard.
The court heard how he had fashioned ways of being alone with his victims.
In a statement read in court, one victim said the abuse had left him in "a chasm of absolute despair".
"He claimed to be able to help me relax but it was his sick ploy to sexually assault me.
"I was worth nothing, a means to satisfy his own depravity."
Prosecutor Paul Newcombe read out a statement from another victim who believed Price targeted him because he thought the boy was vulnerable.
When one of the victims complained to a senior church figure, who has since died, he was told not to be "silly".
Judge Howard Crowson said as a minister Price had been expected to show compassion for the boys but instead he abused them.
Tim Carter, the Methodist Church's Safeguarding Adviser, said: "It's had a massive impact on their lives, their relationships, their employment and the way they see themselves.
"It was quite clear today how angry they are as well that he has taken advantage of the trust they put in him."
Det Con Adam Parkinson, from North Yorkshire Police, said Price used his position "to gain access to vulnerable young boys in order to sexually abuse them for his own perverse gratification."