Boy, 13, arrested over threats to Scarborough's Graham School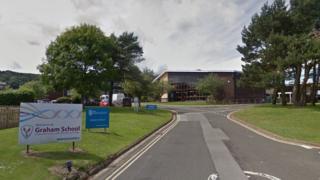 A 13-year-old boy has been arrested in connection with a series of suspicious calls and emails that led to a school being evacuated twice in two days.
Graham School, in Scarborough, was closed on Monday and Tuesday as a result of the threats.
North Yorkshire Police said the boy had been arrested on suspicion of communicating false information.
The force said Monday's incident was a hoax and "nothing suspicious" was found after the premises was searched today.
More stories from across Yorkshire
The boy is being held in police custody.
The Scarborough News reported that Monday's evacuation was sparked after staff received an email saying a "bomb would go off in the cafeteria".
Head teacher Helen McEvoy said all 1,050 pupils left the site earlier today, with some taken to another school to sit a French GCSE exam.
She said the school would re-open "as normal" on Wednesday.
"North Yorkshire Police has undertaken a thorough search of the school, both upper and lower sites, finding nothing suspicious or of concern," she said
"For the remainder of this week, students are asked to report to the main hall/canteen area on their arrival at both upper and lower sites. Students will then move on to their form at 08.40 GMT as usual.
"We wish to thank our students for their responsible conduct throughout this incident and to parents for their co-operation.