Doncaster mayoral candidate Eddie Todd in ticket row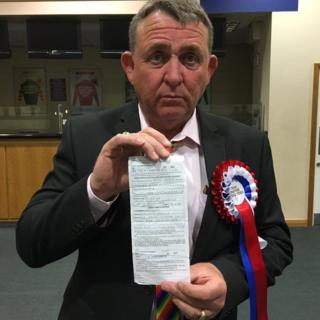 A mayoral candidate has claimed he was "set up" after he was filmed being given a fixed penalty notice.
Eddie Todd, an independent in Doncaster's mayoral race, was given a ticket for having unauthorised blue lights on his vehicle which he denies.
Film of the incident in Doncaster on Wednesday has been shared on social media and Mr Todd claims it may have jeopardised his campaign.
South Yorkshire Police said it did not comment on individual cases.
Read more about this and other stories across Yorkshire
Mr Todd's car is used as a private ambulance and in the video a passer-by asks an officer why he was being issued with a ticket.
The officer said he was not allowed to use blue lights as the car was a private vehicle and he was not an ambulance driver.
Mr Todd told the BBC: "I was set up and someone took a video."
He said he would consider taking the incident "further" with the police and was planning to make a formal complaint.
Mr Todd came fourth in the mayoral race and received 5,344 votes (8.3%). Labour's Ros Jones was elected with 32,631 votes (50.9%).