Flooded Jorvik Viking Centre reopens 'with focus on women'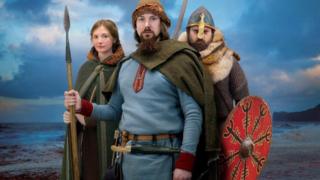 A tourist attraction which depicts Viking-age York is to reopen after a £4m renovation with a greater emphasis on the role of women.
Jorvik Viking Centre, in Coppergate, opens on Saturday following the devastating floods of December 2015.
"We wanted to showcase the lives of all that lived in Viking-age York - especially women and children," said a spokeswoman.
It tells the story of the site in the year AD960 based on local archaeology.
Live updates and more stories from Yorkshire
Parts of the attraction were submerged beneath up to 3ft (1m) of water when the River Foss flooded.
An enlarged display has 31 animatronic characters of which 22 are new, the centre said.
One character, an older resident, is based on one of two full human skeletons found at the site.
The 46-year-old woman walks with a crutch as her arthritis was revealed by the study of her remains.
Her skeleton, probably of a Scandinavian immigrant from Norway, can be seen in the centre's new galleries
"What was found on this very site changed everyone's understanding of the Vikings in Britain," said director of attractions Sarah Maltby.
The site was first dug in the late 1970s and 1980s by York Archaeological Trust, the educational charity that created and owns the centre.
It discovered well-preserved remains of streets from the principal northern city of Viking Britain.
Waterlogged, oxygen-free soil had stopped timbers rotting and preserved a large selection of artefacts.
York's Roman and Viking past
York was settled by the Romans in the First Century AD
It was known as Eboracum and hosted a Roman military barracks
The Vikings settled in what was then called Jorvik from 866-1066
The Viking people remained even after the last Viking king, Harald Hardrada, was killed at the Battle of Stamford Bridge near York in September 1066
The York Helmet, an Anglo-Saxon helmet, buried in Coppergate during the Viking period will also be on display.
The museum attracts about 400,000 visitors a year and opened in 1984.