Bedale High School pupils protest over toilet restrictions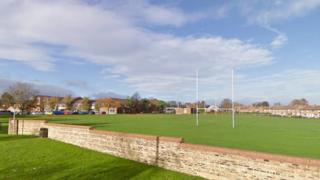 Up to 40 female students have taken part in a protest over restrictions about when they are allowed to go to the toilet.
The Bedale High School pupils claim they are being stopped from taking breaks during lessons, and at certain other times.
One parent wrote on social media that the rules were "humiliating".
North Yorkshire County Council said students who need the toilet during lessons will be allowed on request.
The protesters gathered at the school's playing fields to vent their anger earlier on Friday.
Police confirmed they had attended an incident at the school, but advised staff it was not a police matter.
'Medical issues'
It is understood the school has introduced new rules to clamp down on bad behaviour taking place in the toilets.
Speaking to the BBC, Michelle Clarke, who has a daughter at the school, said the pupils only have a narrow time slot at break times in which to go to the toilet.
She said on one occasion her daughter was refused permission to go to the toilet when it was "her time of the month", and was then given a detention for disobeying the rules.
One parent posted on social media: "I believe that this humiliating and undignified and is a breach of human rights... and totally ridiculous to say that you cannot go to the toilet after you have had lunch."
In response to the protest, Sarah Widdowson wrote: "Go girlies!!! Bedale High have much more important things concerning them that they need to sort instead of these draconian bog rules."
Another parent told the Harrogate Advertiser: "Girls are having problems when it's the time of their month. It's appalling, the fact that if they have got medical issues they have got to show a pass, they are making them a target for bullies, it's not good."
According to local media reports, the county council said the school had informed families and students of the new behaviour code before half term, and that many had given supportive feedback and view it as a positive step.