Bootham Park psychiatric hospital judicial review dropped following CQC's 'new information'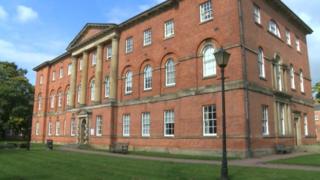 A bid by patients to launch a judicial review into a psychiatric hospital's closure has been dropped.
In September 2015, the Care Quality Commission (CQC) said Bootham Park Hospital in York was no longer fit for purpose and must close.
Former patients were given permission by the High Court for a judicial review to challenge its closure.
The group's lawyers said the case has been dropped, because the CQC released "new information" addressing concerns.
After the inspection the CQC said there was serious risks to patients, poor hygiene and not enough staff at the 18th century hospital.
In February, the hospital reopened for outpatient clinics.
Law firm Irwin Mitchell planned to focus its judicial review case on "unanswered questions" about how the CQC's decision was reached to close the Grade I-listed hospital on Grosvenor Terrace.
It said the CQC has now given "further and new information" however.
Leeds and York Partnership NHS Trust was given five days notice to close the hospital in September 2015.
Tees Esk and Wear Valley NHS Trust took over York's mental health services on 1 October.
The hospital's closure left no inpatient NHS mental health hospital in the area for a year, until a temporary 24-bed mental health hospital opened at Peppermill Court in York in October.
A new replacement for Bootham Park Hospital is due to open by December 2019.