Tractor used as 'taxi for drunk mates' in Ripley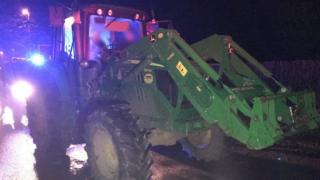 A tractor being driven by a 15-year-old boy "as a taxi for his drunk mates" has been stopped by police in North Yorkshire.
The John Deere tractor was pulled over by officers in the village of Ripley and had two other males on board.
The vehicle had been seen in nearby Harrogate at about 05:00 GMT with no headlights on.
Police said the driver had no licence, was not insured and did not have permission from the tractor's owner.
The vehicle was seized, with the three due to be interviewed by officers.
Posting on Twitter, Insp Chris Galley said: "A strange end to a night shift. 15-year-old lad driving a tractor as a taxi for his drunk mates."