Pigs evacuated from flood: 900 animals moved to safety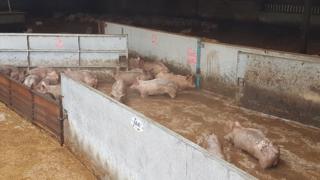 About 900 pigs have been rescued from a flood at a pig farm in North Yorkshire.
North Yorkshire Fire and Rescue Service tweeted at 11:36 that 900 pigs were trapped by water at Keldholme Piggery near Pickering.
The fire service said four pumps and three fire crews were pumping water away from the animals.
The trapped animals have been moved into evacuation pens away from rising water.
Live updates on this story and others from Yorkshire
The farmer was "very appreciative" the crews saved the animals, the fire service said.