Scarborough woman frustrated by husband's care home transfer delay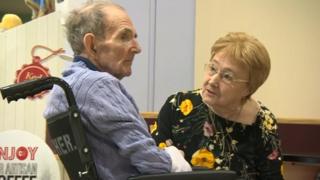 The wife of a Parkinson's patient has spoken of her frustration after her husband spent almost three months "bed blocking" due to a shortage of care home places.
Martin Lister, 80, has been unable to leave Scarborough Hospital as a result, despite being fit for discharge.
His wife, Margaret, 75, described the situation as "ridiculous".
A hospital spokesperson said: "Clearly we would like to see fewer patients delayed in hospital beds."
According to the latest figures, across England 6,825 patients are awaiting a transfer of care, of which 1,826 are waiting for a place in a nursing or residential home.
Mrs Lister said: "We've been to every single home there is in Scarborough and we just get the same answer. If they can provide the facilities they have not got the beds and if they have the beds they can't provide the facilities.
"Because of him not being able to get into a care home or nursing home he's had to block a bed here at Scarborough Hospital where there are so many people needing beds."
A place has now been found in Bridlington and Mr Lister is due to be transferred on Monday, she said.
'Unnecessary delays'
A spokeswoman from York Teaching Hospital NHS Foundation Trust said it was "working hard" to ensure only patients who needed acute care were in hospital.
"We need to make sure that patients who are fit to leave hospital are discharged safely and are able to recover in the right place, with the right support," she said.
"However, no patient should experience unnecessary delays."
North Yorkshire County Council said it could not comment on specific cases but that between 2011/12 and 2019/20 it would have had to find budget savings of £174m.
The authority spends 42% of its budget on care for the elderly and vulnerable adults, it said.