Where's Wally fugitive given driving ban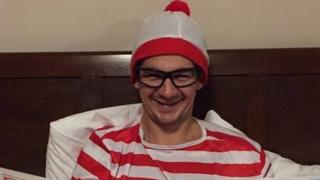 A man who taunted police by dressing as Where's Wally has been banned from driving.
JJ McMenamin dressed as the character while North Yorkshire Police searched for him at the weekend.
He was wanted for failing to attend court and handed himself in dressed in the costume on Monday.
The 30-year-old pleaded guilty at Northallerton Magistrates' Court earlier to driving whilst disqualified and driving without insurance.
He was banned from driving for three months and fined £235. No further penalty was imposed for the stunt.
More stories from across North Yorkshire
McMenemin, originally from Middlesbrough, was wanted by police after he failed to attend court on 19 December.
He changed his Facebook profile picture to a photo of his head superimposed on an image of Where's Wally and went on to post a series of videos, including one in which he sang along to Lionel Richie's Hello, which contains the line "is it me you're looking for?"
He also filmed himself surrendering to Harrogate police station and broadcasted the event on Facebook.