New Year's Day River Ouse death man identified as Craig Batters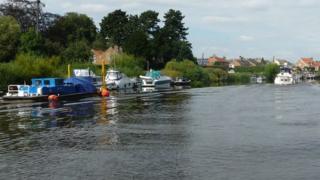 Police have identified a man whose body was pulled from the River Ouse near York on New Year's Day.
North Yorkshire Police said a member of the public spotted the body in the river near Holly Terrace in Acaster Malbis at about 13:30 GMT on Sunday.
He has now been identified by officers as 42-year-old Craig Batters who lived in York.
Anyone who had contact with Mr Batters between Friday and Sunday has been urged to contact police.
Mr Batters' body was recovered with the help of North Yorkshire Fire and Rescue Service.
There have been concerns about the number of deaths in the Rivers Ouse and Foss in the York area in recent years.
Three people died in 2011, including 21-year-old Richard Horrocks, who jumped from a balcony to celebrate his last shift at a bar.
York student Megan Roberts, 20, soldier Tyler Pearson, 18 and Ben Clarkson, 22, all died in 2014.
Soldier Stephen Fry, 20, died in 2015 and student Christian Palmer, 20, died in July 2016.