Body pulled from River Ouse on New Year's Day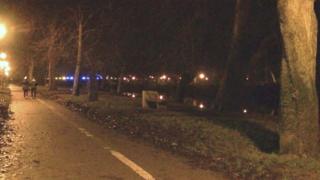 A man's body was pulled from the River Ouse in York after it was spotted by a member of the public on New Year's Day.
Police were called to the river near Holly Terrace at about 13:30 GMT on Sunday.
With the help of North Yorkshire Fire and Rescue Service, the body of a man was recovered from the water a short time later.
Officers are investigating how the man, who has not yet been identified, came to be in the river.
Recent deaths
In recent years there have been concerns about the number of deaths in the River Ouse and the Foss, also in York.
Three people died in the rivers in 2011, including 21-year-old Richard Horrocks, who jumped from a balcony to celebrate his last shift at a bar.
York student Megan Roberts, 20, soldier Tyler Pearson, 18 and Ben Clarkson, 22, who was found in the Foss after he went missing, all died in 2014.
Soldier Stephen Fry, 20, died in 2015 and student Christian Palmer, 20, died in July 2016.