York's flood-hit Jorvik Viking museum appeal tops £1m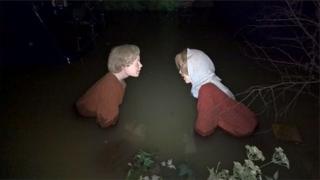 A museum badly damaged during flooding a year ago has raised more than £1m towards the cost of restoration work.
York's Jorvik Viking Centre closed on 27 December 2015 after parts of the attraction were submerged beneath up to 3ft (1m) of flood water.
The York Archaeological Trust, which runs the attraction, said the total cost of restoration was £4.3m with insurers paying out £2.83m.
The museum is expected to reopen on 8 April.
The trust said donations ranged from small individual gifts to larger grants from government bodies, charitable trusts and foundations.
As flood water from the River Foss rose, staff at the Coppergate site created a makeshift flood barrier to hold the water back long enough for a team of curators and volunteers to remove artefacts from the underground galleries.
Many of the sets used to recreate Viking York and hand-crafted plaster models of its residents were badly damaged and needed replacement.
Sarah Maltby, director of attractions at the trust, said she and colleagues had been "overwhelmed with fantastic support" and were working to raise the remaining £314,000 needed.
"Although it was catastrophic and distressing, it also presented us with a unique opportunity to start afresh, and build a re-imagined Jorvik.
"We cannot wait to show people the great new Viking experience that will arise from the floods."
The museum was originally opened in 1984 after an archaeological dig at Coppergate in the 1970s found Viking streets buried beneath York's modern pavements.