North Yorkshire Police plea for dangerous driving footage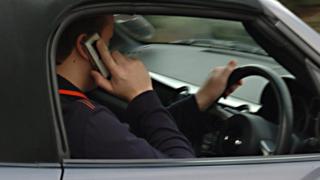 Dangerous drivers and motorcyclists could be prosecuted for driving offences caught on camera by fellow motorists.
North Yorkshire Police is urging people to report incidents of poor driving online and is asking for dashcam videos to be submitted in support of claims.
It said Op Spartan aims to "improve attitudes and increase safety".
The force said it would review any evidence submitted and "take the appropriate course of action".
Insp Dave Barf said he hoped motorists would "share the instances of poor driving and anti-social behaviour" via an online driver concern form.
He said: "With liveried police vehicles being highly identifiable on the road, the opportunities for traffic officers to witness poor driving are somewhat reduced.
"However, I know that members of the public very often witness or experience behaviour such as tail-gating, inappropriate speed, aggressive driving and mobile phone use."
Incidents are already being recorded through similar methods by other UK forces, including North Wales Police.
Offending drivers will face action ranging from a letter or a personal visit by a traffic officer to prosecution, the force said.
Officers stressed it wasn't a "witch hunt" where a single piece of information would necessarily lead to a prosecution, but repeat offenders could be identified.
'Vigilantism' concern
David Warin, a road safety campaigner from Pickering, said: "At first I was a bit concerned that it was an opportunity for personal animosity to raise its head among people.
"But any help that will reduce the number of incidents on roads is acceptable and would be gratefully received."
Godfrey Bloom, ex-UKIP MEP and patron of The Alliance Of British Drivers, described it as a "bad idea" which would lead to "vigilantism".
He said: "You need a team of unmarked police cars, properly equipped with cameras, so you can make a proper prosecution to deter dangerous and bad driving."
North Yorkshire Police said the move was to "supplement" rather than replace services.