Temporary Ripon sinkhole repair work complete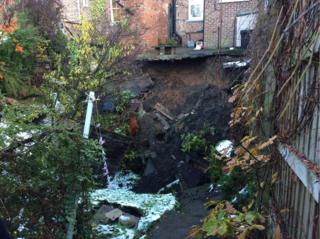 Residents of six homes that were evacuated due to a large sinkhole should be able to return home for Christmas, Yorkshire Water has said.
The 20m (66ft) by 10m (33ft) hole, about 9m (30ft) deep, appeared in Magdalen's Road in Ripon on 9 November.
The company said it had installed a temporary fix reconnecting the homes to the sewerage system after the hole caused the main sewer to collapse.
Permanent repairs will not begin until the sinkhole itself is plugged.
Work to fill the hole with concrete to stabilise the ground has already started and the contractors, Subsidence Management Services, said it should be completed in January.
Read more about this and other stories from across North Yorkshire
Yorkshire Water said a sewer chamber had been installed in the ground at the rear of the properties.
It uses pumps to transfer waste water into the main local sewer network.
Tom Underwood, from the company, said: "This is a temporary solution using pumps until a more permanent solution can be put in place.
"We hope this will encourage these residents to think about moving back into their home and start using their toilet facilities again."