York's city wall at Fishergate reopens with supports added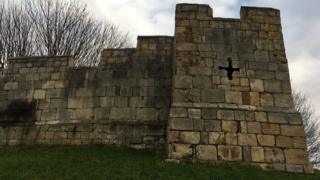 A section of York's city walls closed due to safety concerns has reopened with extra supports in place.
City of York Council closed the 200m (656ft) stretch from Fishergate Postern Tower to Fishergate Bar Tower 39 on 2 December over fears of subsidence.
After an inspection was carried out, the council said there may be "continuing movement" in the roof arch and in the tower's stone walls.
Supports were added as a temporary solution, a spokesperson said.
Further plans for the repair and restoration of Tower 39, a corner tower, are expected to be revealed in the new year.
The city walls, some sections of which date back to the 12th Century, extend for 2.5 miles (4km) and enclose a total area of 263 acres (106 hectares).