A64 York collision: Man dies in 'wrong-way' car crash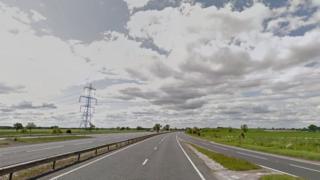 A man has died in a crash in North Yorkshire believed to have involved a car travelling the wrong way along the carriageway.
A 76-year-old man in a Toyota Corolla was on the westbound A64 near Grimston Bar, east York, when it hit a Mercedes A class on Saturday night, police said.
The drivers of both cars were taken to hospital, with the Toyota driver dying in the early hours of Sunday.
The 37-year-old Mercedes driver, from Leeds, sustained serious injuries.
The road was closed for six hours to allow collision investigators to examine the scene.