Ripon sinkhole: Filling work to start at collapsed site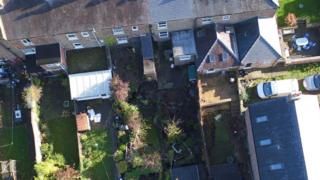 Work to fill a large sinkhole in North Yorkshire is expected to begin in the next couple of days, engineers said.
Twelve homes were advised to evacuate when the 20m (66ft) by 10m (33ft) hole, about 9m (30ft) deep, appeared in Magdalen's Road in Ripon on 9 November.
No-one was injured but the street's sewerage system fell into the ground and two gardens caved in.
Alan Milburn, of Subsidence Management Services, said he hoped the work would be completed by the end of December.
More on this story and other news in North Yorkshire
The ground will be cleared of fallen trees, vegetation and garden furniture before the hole is filled to form a "concrete plug".
The damaged garage of one of the worst-affected properties will also be demolished.
Mr Milburn, a senior engineer, said: "We're looking to cast the plug, put a reinforced capping over the top and that will take us almost up until Christmas.
"The aim is to move people back in early in the new year."
He said the cost of the work would be split by the insurers of the four worst-hit homes.
In 2014, a 100-year-old detached house in an adjoining street was demolished after a 25ft-wide (8m) sinkhole opened.
The British Geological Survey said Ripon lies in one of the most susceptible areas of the UK for sinkholes because of its "Permian gypsum deposits", which can dissolve more quickly than surrounding limestone.