York city centre containers plan for start-up businesses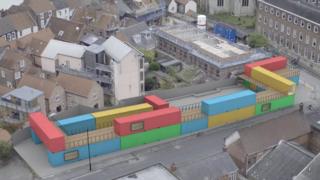 A "bold development" using 15 brightly-coloured shipping containers as a base for street food and new businesses has been approved.
Spark:York has been granted a three-year lease by councillors to develop an empty site on Piccadilly in York city centre.
Separate planning applications for the plans will have to be submitted before the scheme can go ahead.
It is hoped the project could open in spring 2017.
Read more about this story and others from across York and North Yorkshire
Joe Gardham, director of Spark:York said the containers would create a hub for businesses by offering "affordable, low-cost and easily accessible space".
Spark:York said it was already meeting with people who have ideas for using the space and added there was "no idea we would reject".
Prospective business owners would have to have a link to the city and support the social purpose of the scheme, said Mr Gardham.
The containers are 40ft (12m) long and prospective businesses could rent all or part of them.
All of the containers have been donated free by a logistics company, he added.
The executive board of City of York council described the "exciting and bold development" as "low-risk" because funding and obtaining planning permission would rest with Spark:York.
The council would charge rent and share in any profits from the scheme.
The site at 17-21 Piccadilly is the former Reynard's Garage and demolition was completed in September.