Plans to shore up spa cliffs in Scarborough on show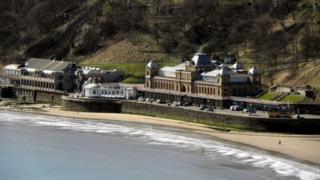 Multi-million pound plans to shore up cliffs behind Scarborough's spa have gone on public display.
The £14.7m project aims to stabilise the cliffs that overlook the Victorian entertainment venue.
An exhibition is being held at South Cliff Methodist Hall to give residents a chance to comment before a final planning application is made.
The Scarborough South Cliff scheme also aims to make improvements to the sea wall.
In a report, Scarborough Borough Council said the South Cliff area is inherently unstable and has witnessed major landslides, including in 1737 when the cliff collapsed destroying the previous spa buildings.
In 1993, a hotel, about a kilometre away, was destroyed in another incident, it said.
Part of the plan is to reinforce the cliff face with steel piles to prevent further landslides.
Another report in 2014 claimed any cliff collapse could result in the loss of the Grade II-listed spa building and put about 380 cliff-top residences at risk.
---
Mercy of the sea
A wooden wharf originally protected the spa house from the sea but it was washed away in 1735
A further disaster occurred in 1737 when a cliff fall destroyed the wells and the spa house
The building's proximity to the sea led to further damage over the years. In 1808 it was again damaged by heavy seas
The building was largely destroyed again during storms in 1836
Source: Scarborough Spa
---