Church Fenton 'garden village' plan shelved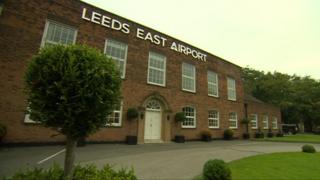 Plans to build a new "garden village" of 10,000 homes at an ex-RAF site have been scrapped.
Selby District Council had been considering the homes on brownfield land near Church Fenton in North Yorkshire.
But it said it now wants to focus on "shorter-term challenges" to deliver the "new homes people need".
Amid criticism of the perceived u-turn, the council said the plan was never any more than an "expression of interest".
Church Fenton parish councillor Jo Mason said her trust in the district council had been "seriously dented" and people are "very cross" about the way the proposal was handled.
Local residents had already accused Selby District Council of operating "in secret" when the proposal was first announced, the York Press reported.
The council said the plans were merely "an expression of interest" which was submitted to central government with the intention of consulting the wider community at a later stage.
A spokesman for the council said: "The government asked councils to consider sites that could potentially be places to create new garden villages. This is part of a commitment to get Britain building to deliver the homes people want and need.
"We worked with others to look at the potential of using the previously developed land at Church Fenton airfield to support this.
"We've taken a decision - based on further work - to concentrate on delivering housing right now, to help families and individuals who have very real housing needs."