North Yorkshire fire crews to be balloted over new vehicles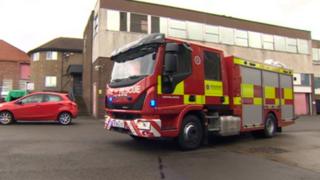 Firefighters in North Yorkshire are to be balloted on taking industrial action over changes to the service.
The Fire Brigades Union (FBU) claim plans to replace some fire engines with smaller Tactical Response Vehicles (TRVs) threatens public safety.
North Yorkshire Combined Fire Authority said it had consulted widely over the proposals and had responded fully to the unions concerns.
The FBU said it would ballot for industrial action short of strikes.
The union said that could lead to a ban on working overtime or crews refusing to work on vehicles with less than a certain number of staff onboard.
'Imitation fire engines'
The decision to replace six fire engines at six of the county's 38 fire stations in order to save £1.5m a year was approved in December 2015.
Steve Howley, from the FBU, said: "It is not the vehicle, it is the number of crew on the vehicle which makes it unsafe.
"They are imitation fire engines - the difference is they only have two or three staff on them."
The union claims the vehicles will be widely used as a first response which would mean a delay in rescues as crews would have to wait for additional support to arrive.
"In our opinion that is unsafe for members of the public and for fire fighters," Mr Howley said.
'Risk assessments'
Owen Hayward, temporary assistant chief fire officer for North Yorkshire, said using TRVs was a response to a reduction in the number of fires they were called out to.
"Extensive analysis just does not show there will be any adverse impact to the public or to fire fighter safety," he said.
"We hope they carry on dialogue but there is very little more we can do in terms of research and risk assessments."
The ballot will begin on 22 November with a result expected on 13 December.