Ripon sinkhole: Further cracks appear in ground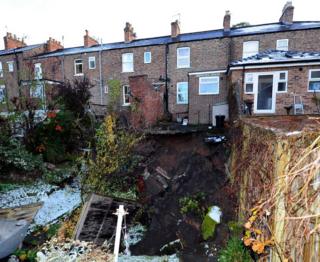 Further cracks have appeared in the ground and on walls at the site of a large sinkhole which appeared behind a row of houses.
Twelve homes have been evacuated after the hole opened in Magdalen's Road, Ripon, at 22:30 GMT on Wednesday.
Geological experts are due to assess the hole, measuring about 20m (66ft) by 10m (33ft) and 9m (30ft) deep.
The fire service said its main current concern was how forecasted wet weather would impact the site.
More on this story and other news in North Yorkshire
No-one was injured in the collapse with the back gardens of two properties the worst affected.
A sewerage system connected to several of the properties on the terrace fell in as the hole appeared.
Heavy rain is forecast for Ripon in the early hours of Saturday morning with cracks in the ground marked with paint to show where fresh ones were developing.
Despite new cracks, Harrogate Borough Council said there had been no "major movement overnight" at the site.
Ben Cairns, North Yorkshire Fire Service station manager, said: "We're working with insurers and geological experts to understand what may happen.
"Our main concern at the moment is what impact the weather is going to have for the next few days."
Fran O'Neill, who spoke of the "ground moving" beneath her when the hole appeared, said the situation was worsening at her house.
She said: "I went to feed my cats this morning and there has been more movement, more of my garden has slipped in."
In 2014, a 100-year-old detached house in an adjoining street was demolished after a 25ft-wide (8m) sinkhole opened.
The British Geological Survey said Ripon lies in one of the most susceptible areas of the UK for sinkholes because of its "Permian gypsum deposits", which can dissolve more quickly than surrounding limestone.
---
At the scene - Phil Bodmer, BBC Look North reporter
The fire service and council representatives tell me there has been some movement in the ground overnight with a number of further cracks appearing in the ground and on walls.
They say it may be due to earth settling into the cavity after the hole opened up.
Cracks on the ground from Wednesday and Thursday have been marked with blue paint with fresh cracks emerging overnight marked in yellow.
British Geological Survey experts are expected to attend the scene today to help assess the ground on Magdalen's Road.
---