Yorkshire Museum Roman hoard appeal hits target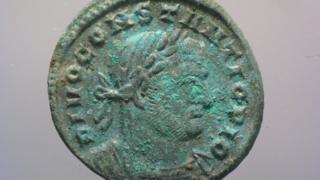 An appeal to buy a Roman hoard described as a "once-in-a-lifetime" discovery has reached its £44,000 target.
The hoard of more than 1,800 coins was found by a metal detectorist near the village of Wold Newton, East Yorkshire, in 2014.
The Yorkshire Museum in York launched the public appeal to purchase the collection in July.
About half the money came from individual donations, the museum said.
It also received a £10,000 grant from the Arts Fund and a donation of £9,981 was made by the American Friends of the Art Fund.
Andrew Woods, from the Yorkshire Museum, said he was "thrilled" by the response to the appeal.
"We would like to thank every single person who gave to this appeal and has helped make sure this wonderful collection of coins will stay in Yorkshire and in public collections.
"The hoard is a once-in-a-lifetime find."
---
The hoard details:
Consists of 1,858 Roman copper coins in a ceramic vessel
The coins depict a number of Roman emperors including Constantius and Constantine
At the time it was buried it would have been enough to buy 700 chickens, 11,000 pints of beer or 2,000 of the best fish
It is the largest hoard found from the period in the north of England and the second largest ever found in the country; the largest, the Fyfield Hoard, was found in 1944 and is now at the Ashmoleon in Oxford
Source: Yorkshire Museum
---
The money raised to buy the hoard will be divided between the man who found it and the landowner.
It will remain on display at the museum until January when it will be removed for conservation work.
The museum said it would return to public display in July 2017.